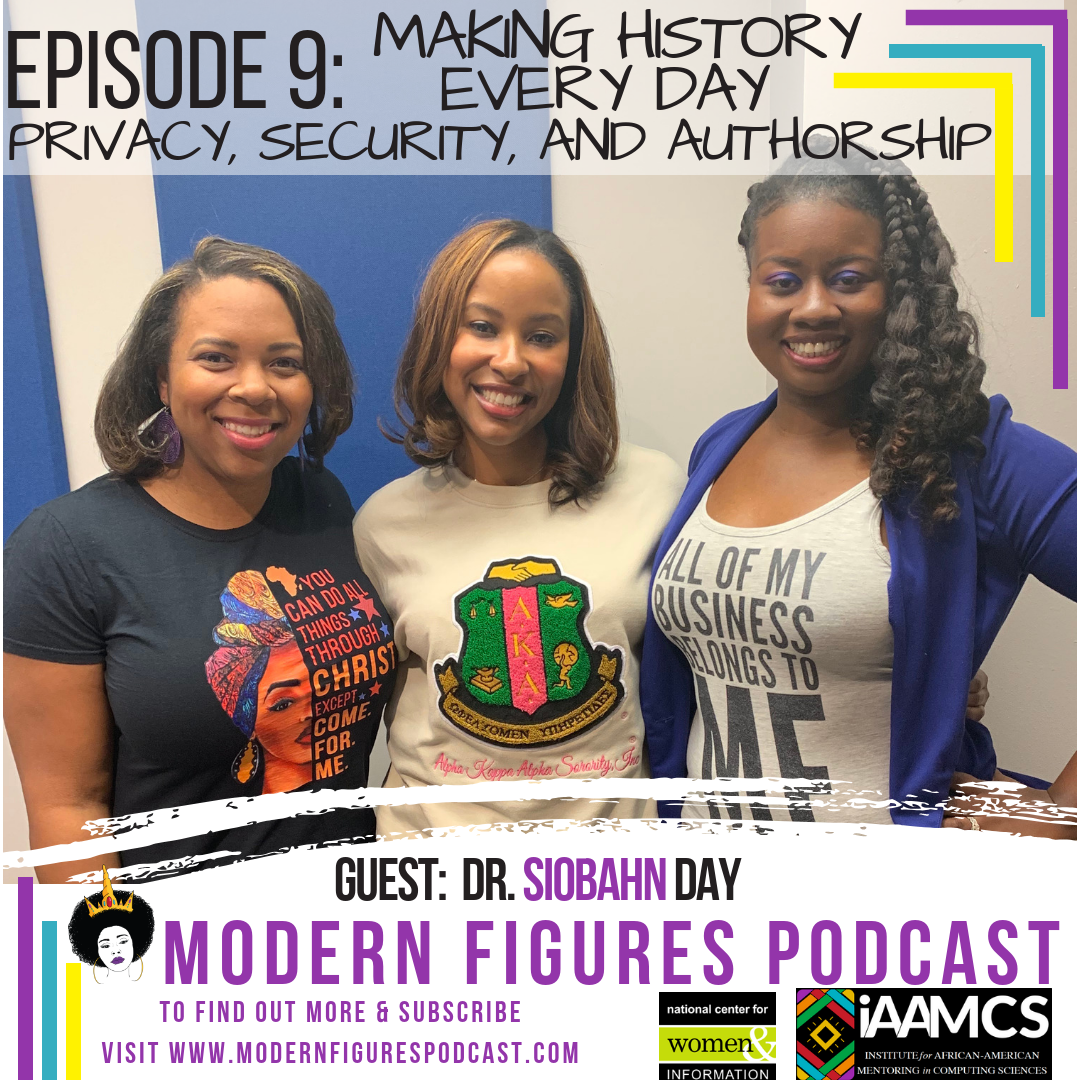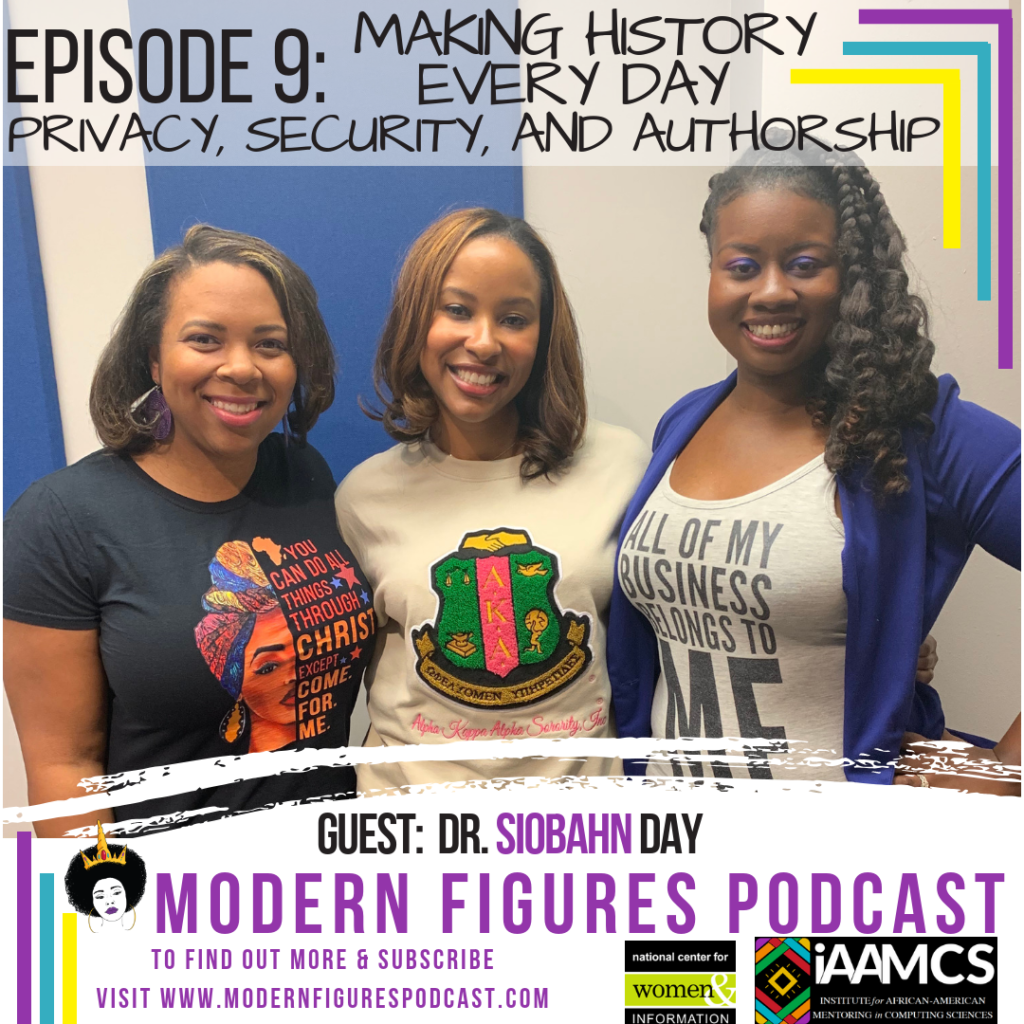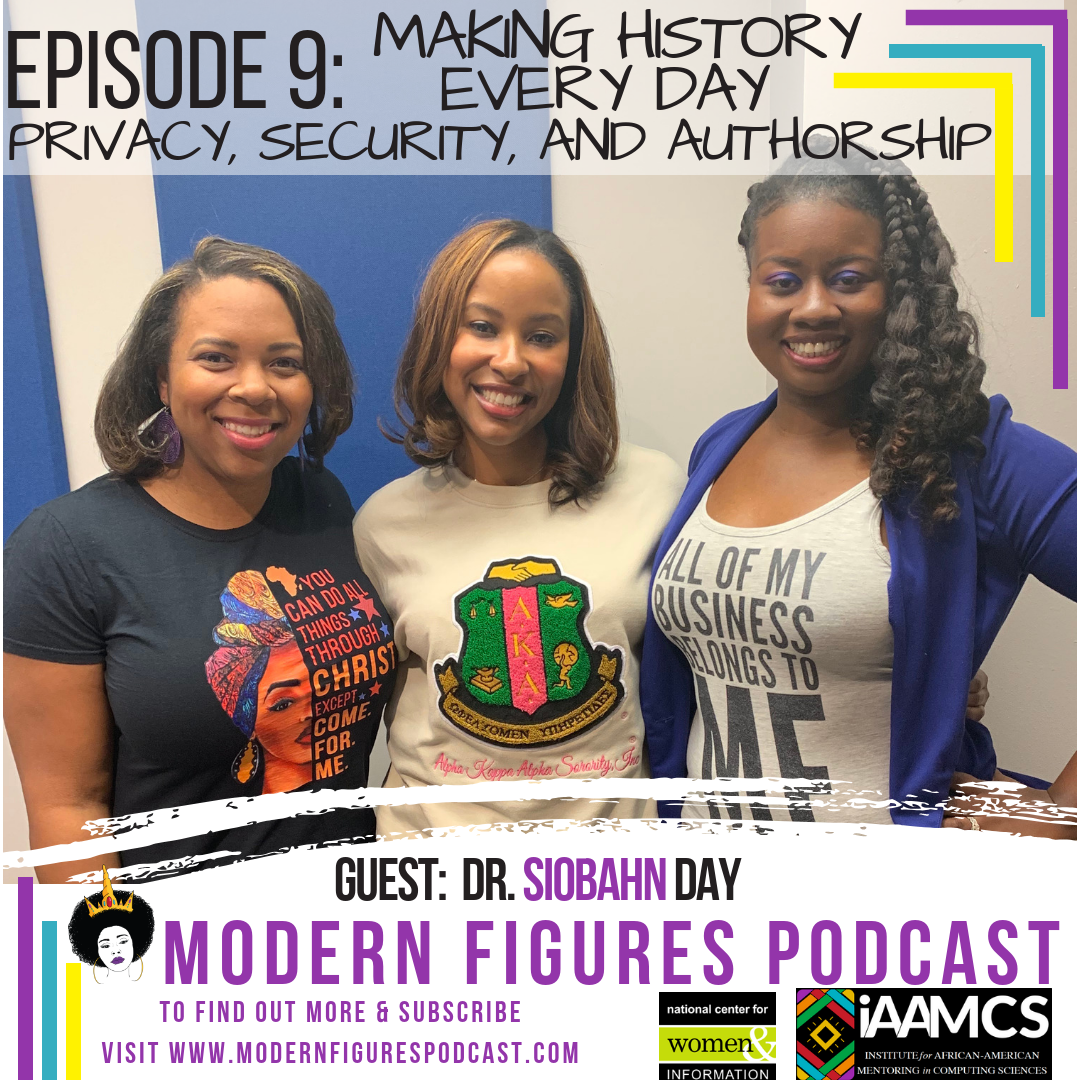 Episode 9 – Making History Every Day: Privacy, Security, and Authorship
Hosts: Dr. Kyla McMullen and Dr. Jeremy Waisome
Guest: Dr. Siobahn Day (@drsiobahncday) [http://www.siobahncday.com]
Description:  With parents in computing, a career in CS was a natural fit for Dr. Day. Math was her favorite subject because she could check her answers. She was developing websites in middle school and by the time she reached HS she knew she wanted to attain a PhD. Dr. Day is the first woman to receive a PhD in Computer Science from NCA&T.
In this episode, you'll learn how faith, determination, and hard work are what she believes led to her success. And she shares the importance of having multiple mentors, which may even include your parents.
Bio: Siobahn received her BS in Computer Science from Winston-Salem State University in 2005, her master's degree in Information Science from North Carolina Central University in 2009, and in 2018 obtained her master's and doctorate of philosophy degree in Computer Science from North Carolina Agricultural and Technical State University. Siobahn is the first female Computer Science Ph.D. graduate from the department.
She is a Lecturer for the Department of Computer Science at The University of North Carolina at Greensboro and an Adjunct Assistant Professor for the Department of Computer Science at North Carolina A&T State University. Prior to this, she served as an Adjunct Instructor at several colleges and universities where she taught an array of courses in Computer Science. She has delivered numerous presentations on a variety of Technology topics at national and regional conferences.
Siobahn is also an entrepreneur. She created Dreams Creative Group in April 2015 with one goal in mind – to elevate art. Dreams Creative Group offers unique web and graphic design solutions to individuals and institutions. Siobahn and her team of employees work tirelessly to make their clients' dreams reality.
She is a member of several associations including The Beta Iota Omega Chapter of Alpha Kappa Alpha Sorority, Inc., Junior League of Greensboro, Winston Salem State University National Alumni Association (Life Member), and North Carolina Central University National Alumni Association (Life Member). She also serves as a volunteer for various organizations including Boy Scouts of America, FIRST North Carolina, Girl Scouts of America, and 'Black Girls Code', which introduces Science, Technology, Engineering and Mathematics skills to African American girls.