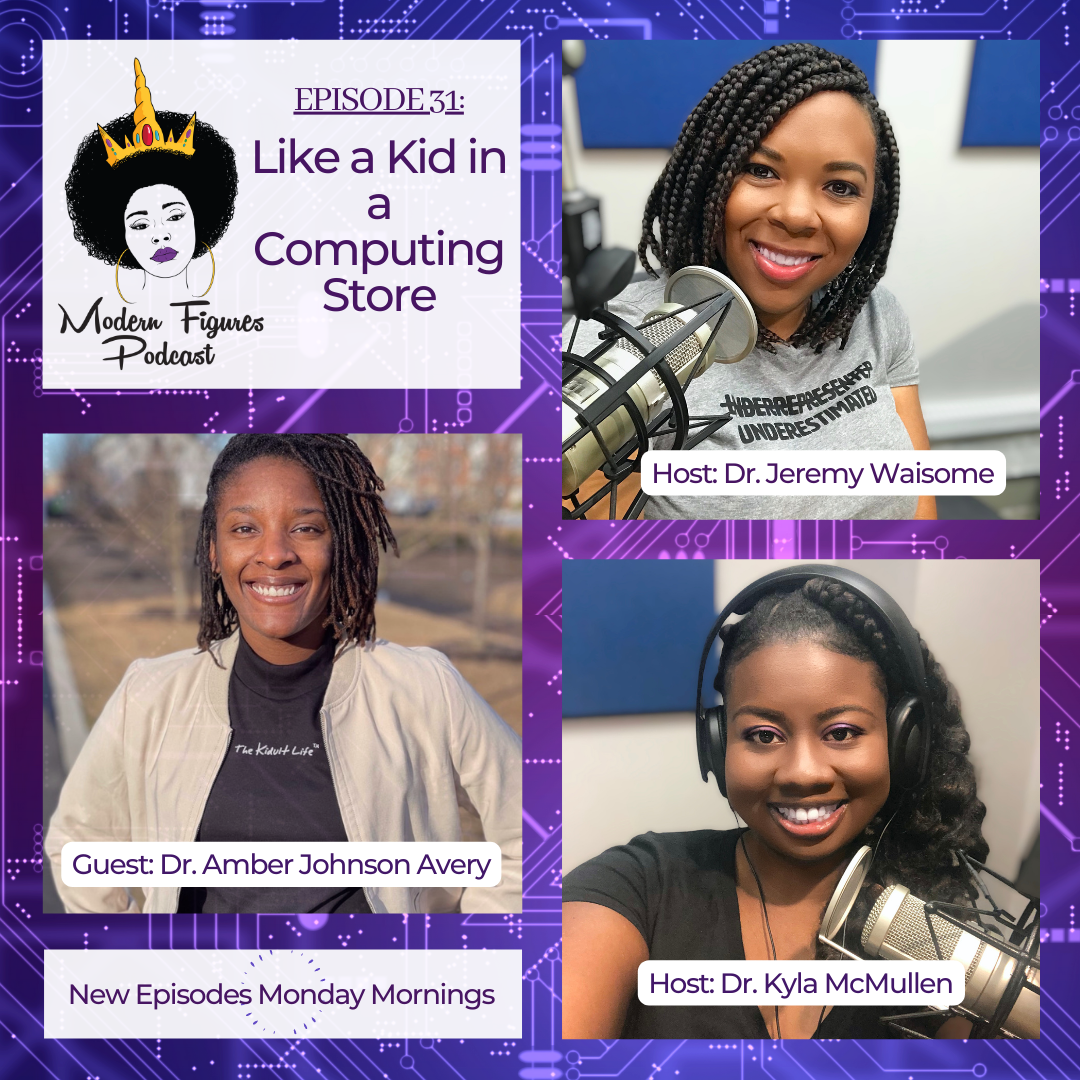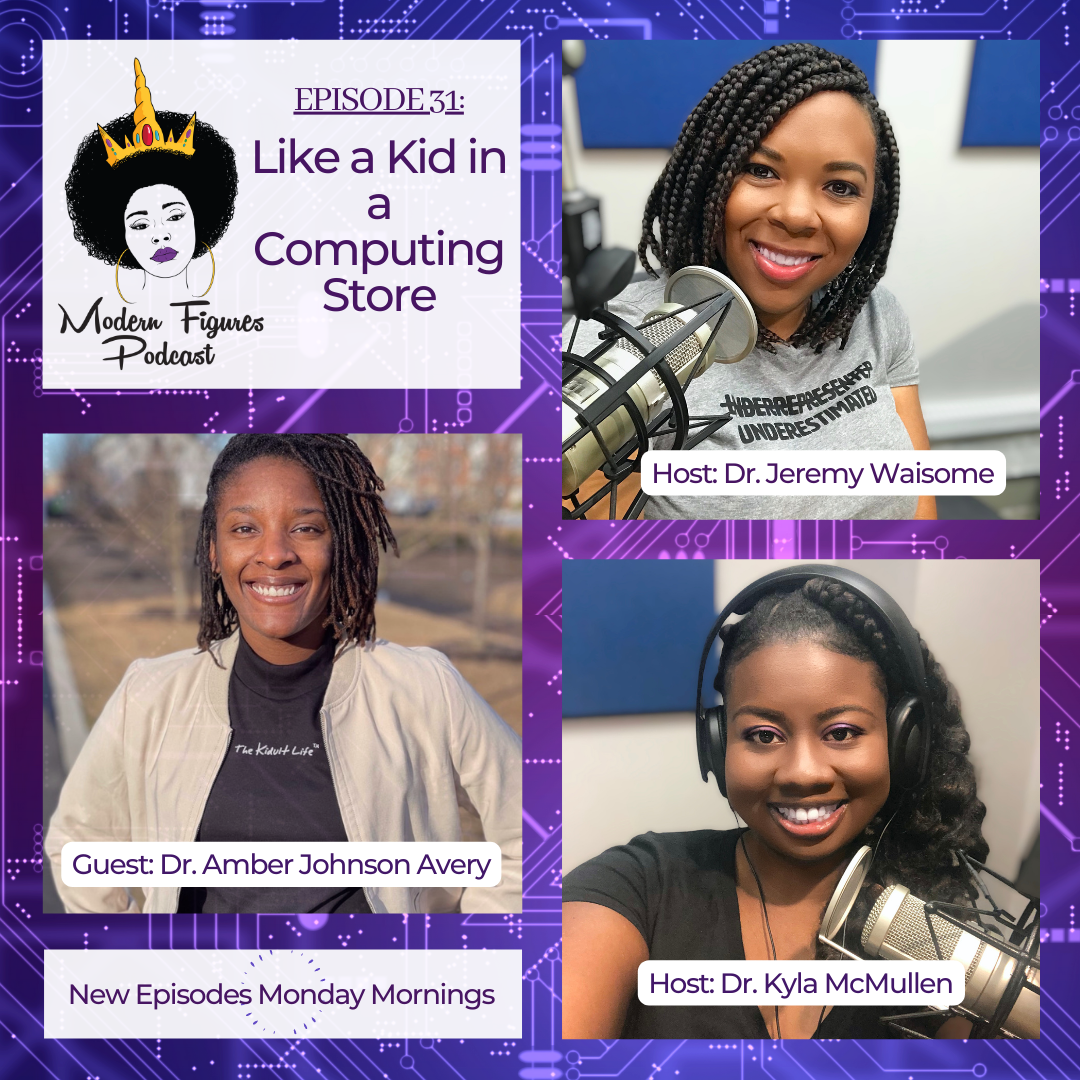 Episode 31 – Like a Kid in a Computing Store
Hosts: Dr. Jeremy Waisome & Dr. Kyla McMullen
Guest: Dr. Amber Johnson Avery
Amber's Instagram: @CallMeRudy
Kidult's Instagram: @TheKidultLife
Bean Path Instagram: @TheBeanPath
Episode Description: Being the first Black woman to earn a PhD in Computer Science at Purdue University is only one part of Amber's story. Amber has always been curious and interested in gadgets (and their destruction at times) which led to her interest in computer science. Despite being discouraged from pursuing the PhD by her initial advisor, Amber never forgot her purpose and persevered to the end. True to form, her passion for giving back is evidenced by her drive to build visualization tools for electronic healthcare records to make predictions that inform treatment guidelines. Currently, Amber is giving back to her community in Jackson Mississippi, as the COO and co-founder of the JXN Tech District, a $150M live-work-play, mixed-use real estate development project in Jackson, MS.
Amber's Bio: Dr. Amber Johnson Avery is a Jackson, MS native, entrepreneur, and trailblazer. She is the owner of The Kidult Life, a lifestyle brand she founded after becoming the first black woman to graduate with a PhD in Computer Science from Purdue University. Dr. Amber is also Chief Operating Officer (COO) and co-founder of the JXN Tech District, a $150M live-work-play, mixed-use real estate development project in downtown Jackson, MS.
Dr. Amber attended Lanier High School, Tougaloo College, The LeMoyne-Owen College, and Jackson State University (JSU). As an undergraduate student Dr. Amber was a 2-sport athlete and student ambassador. Dr. Amber earned a M.S. in Computer Science from JSU as a Louis Stokes Mississippi Alliance for Minority Participation (LSMAMP) Bridge to the Doctorate scholar. Upon graduating from JSU, Dr. Amber pursued a PhD at Purdue University where she served in many capacities, most notably, President of the Computer Science Graduate Student Board where she piloted programs aimed to create community within the Computer Science department. Dr. Amber also piloted her PhD research, where she developed a suite of software tools, changing the way in which medical professionals treat and assess chronic conditions in patients. Her contributions to the field were greatly inspired by her aunt, who suffered from a chronic lung disease and passed away while Dr. Amber was pursuing her PhD.
Dr. Amber worked as a software engineer for Northrop Grumman, where she was a part of the Future Technical Leader (FTL) Program. She has helped mobilize a number of startup companies as well as pilot and develop educational programs. Dr. Amber has served as an instructor and mentor for organizations such as Girls Who Code, Black Girls Lead, and BRIGHT-CS, National Coalition of 100 Black Women (in partnership with Apple), which all aim to bridge the digital divide and pour into youth through tech programming.
Dr. Amber's experience in several tech sectors, both public and private, has been a driving force for innovation through entrepreneurship, consulting, software engineering, software development, and education. In 2019, Dr. Amber coined the phrase, "Be who you are no matter where you are." and founded The Kidult Life to encourage others to embrace the kid at heart and be themselves no matter the space they're in. Dr. Amber currently supports operations for The Bean Path, a non-profit organization based in Jackson, MS, assisting individuals and startups with technical expertise and guidance.