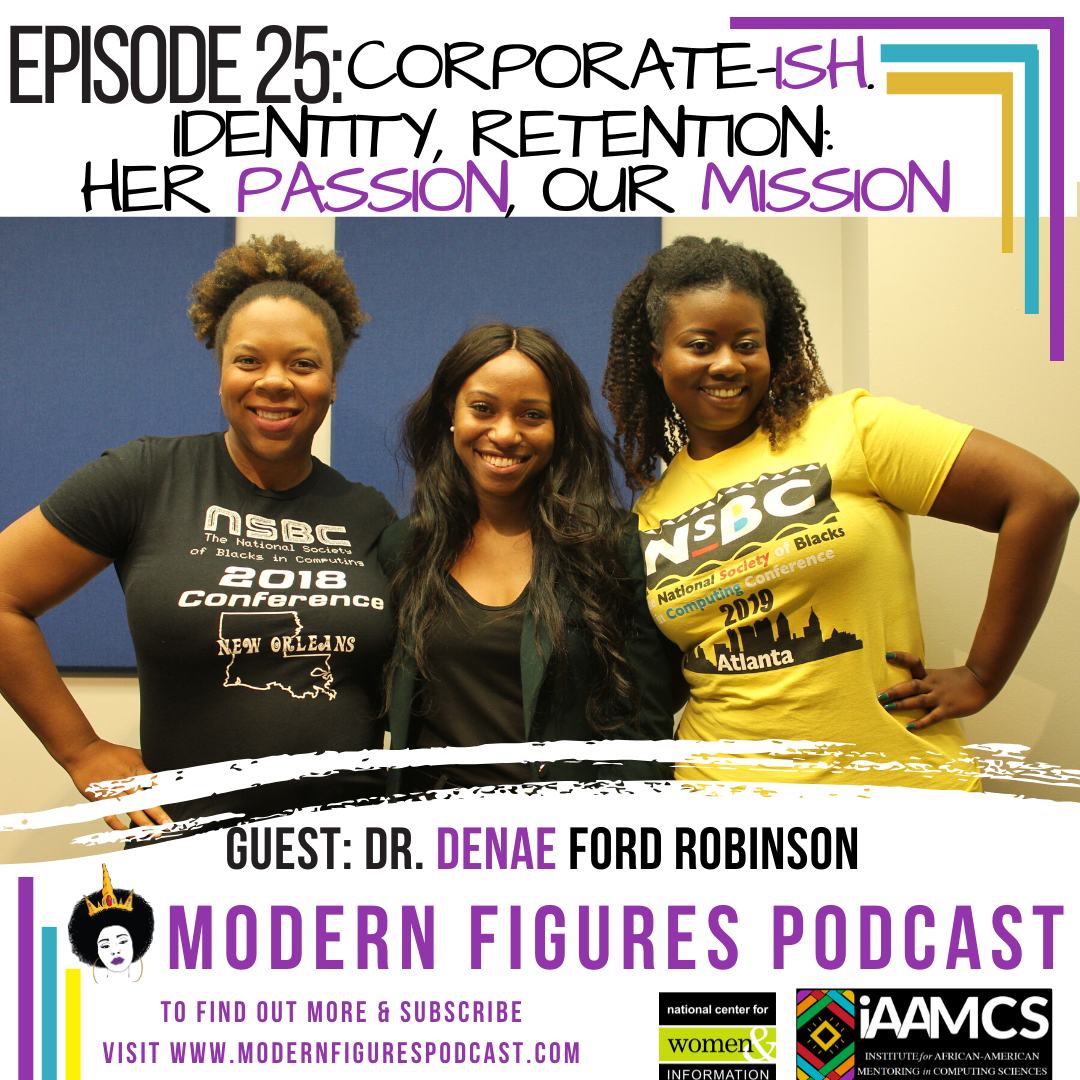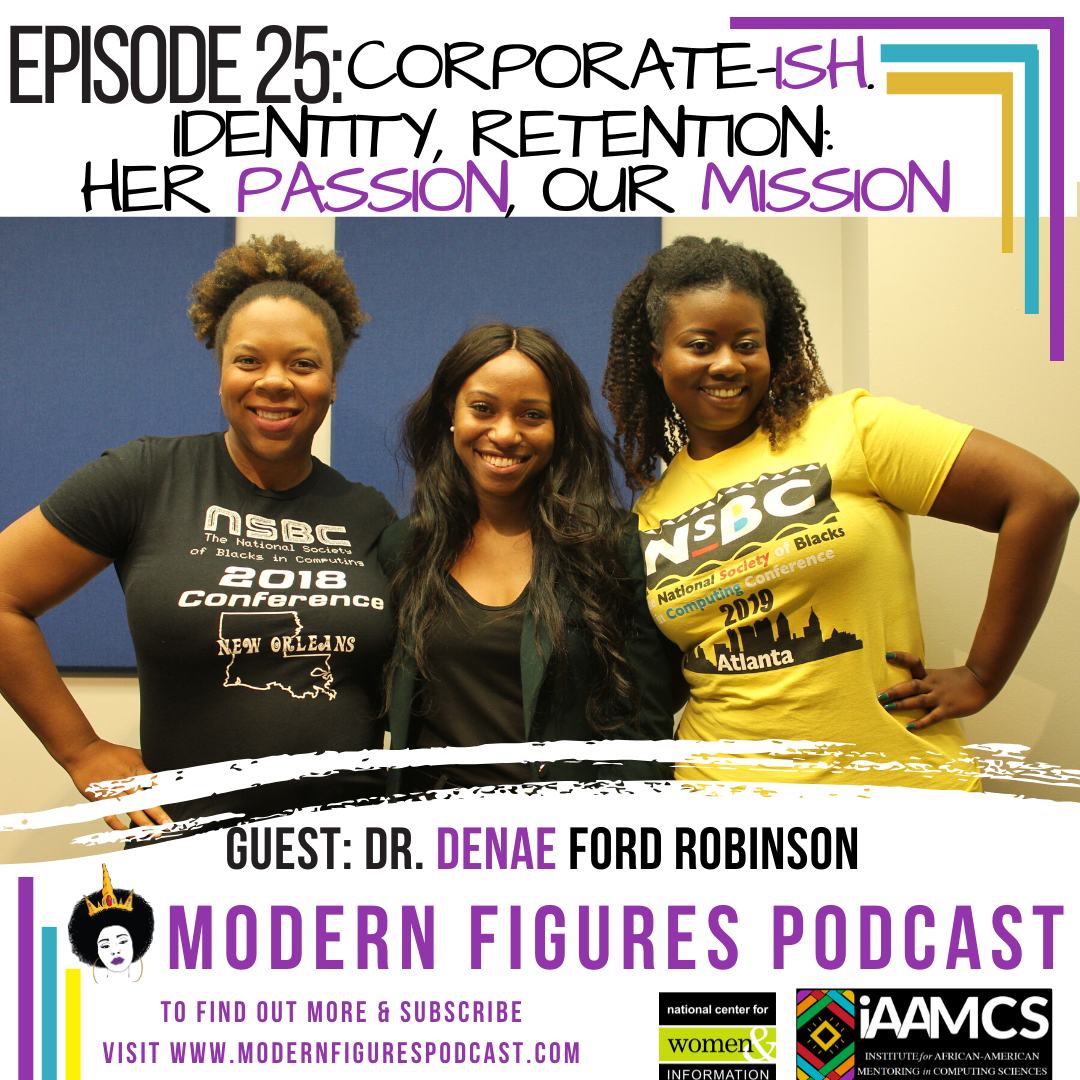 Episode 25 – Corporate-ish. Identity, Retention: Her Passion, Our Mission.
Hosts: Dr. Jeremy Waisome & Dr. Kyla McMullen
Guest: Dr. Denae Ford Robinson
Website: http://denaeford.me
Twitter: @denaefordrobin
LinkedIn: Dr. Denae Ford Robinson
Description:
If you visit Dr. Denae Ford Robinson's website you'll learn a lot about her. One of the first things you'll see is that she's focused on dismantling barriers in computer science. And so are we! Denae is passionate about understanding how identity plays a role in retaining underrepresented people in tech, with a specific research focus on cognitive and social barriers in socio-technical ecosystems. We talk a lot about this and the strategies she's seen that make a difference, including mentoring, which is just one of the many ways we seek to broaden participation in computing at iAAMCS and NCWIT.Though she's taken her talents to industry, Denae maintains one foot in the academy. Listen in and learn how you too can pursue publishable research in a corporate environment (which is a big deal for those of us with doctoral degrees).
Bio:
Dr. Denae Ford Robinson is a Senior Researcher in the SAINT group at Microsoft Research where her research lies at the intersection of Human-Computer Interaction and Software Engineering. Her current research focuses on how empathetic mechanisms can facilitate collaboration for software engineers in online socio-technical ecosystems globally through an extended cultural lens.
Dr. Ford Robinson earned her Ph.D. in Computer Science and a graduate minor in Cognitive Science, M.S. in Computer Science, and B.S. in Computer Science from North Carolina State University. As a scholar student athlete, she found the joy in computing and let it run from there, literally. Throughout her Ph.D. academic career, she has interned and collaborated with research laboratories including MIT Lincoln Laboratory, Microsoft Research, Stack Overflow, and Facebook Research. Her dissertation research creates and applies a framework for dismantling barriers to participation titled "Identity-Based Signals and E-Mentorship to Support Engagement in Online Programming Communities", which cites her impactful collaboration with Stack Overflow on the Mentorship Program.
Dr. Ford Robinson firmly believes that her research is for software developers, so to make sure they find value in it and have the opportunity to give feedback, she writes blogs: http://blog.denaeford.me. She also blogs about her time as a PhD student at http://philosideee.com . More information about her research and papers can be found at http://denaeford.me.
She has received several fellowships and awards including the National GEM Consortium Fellowship, National Science Foundation Graduate Research Fellowship, Microsoft Research Ph.D. Fellowship, and #blackcomputer Fellowship. She was also recently recognized with the 2019 #blackcomputeHER Rising Star Award.
Passionate about pouring into others, she participates in several service opportunities including serving on the Board of Directors for INTech Camp for Girls designed to inspire young Black, Latinx, and Indigenous girls in computing.