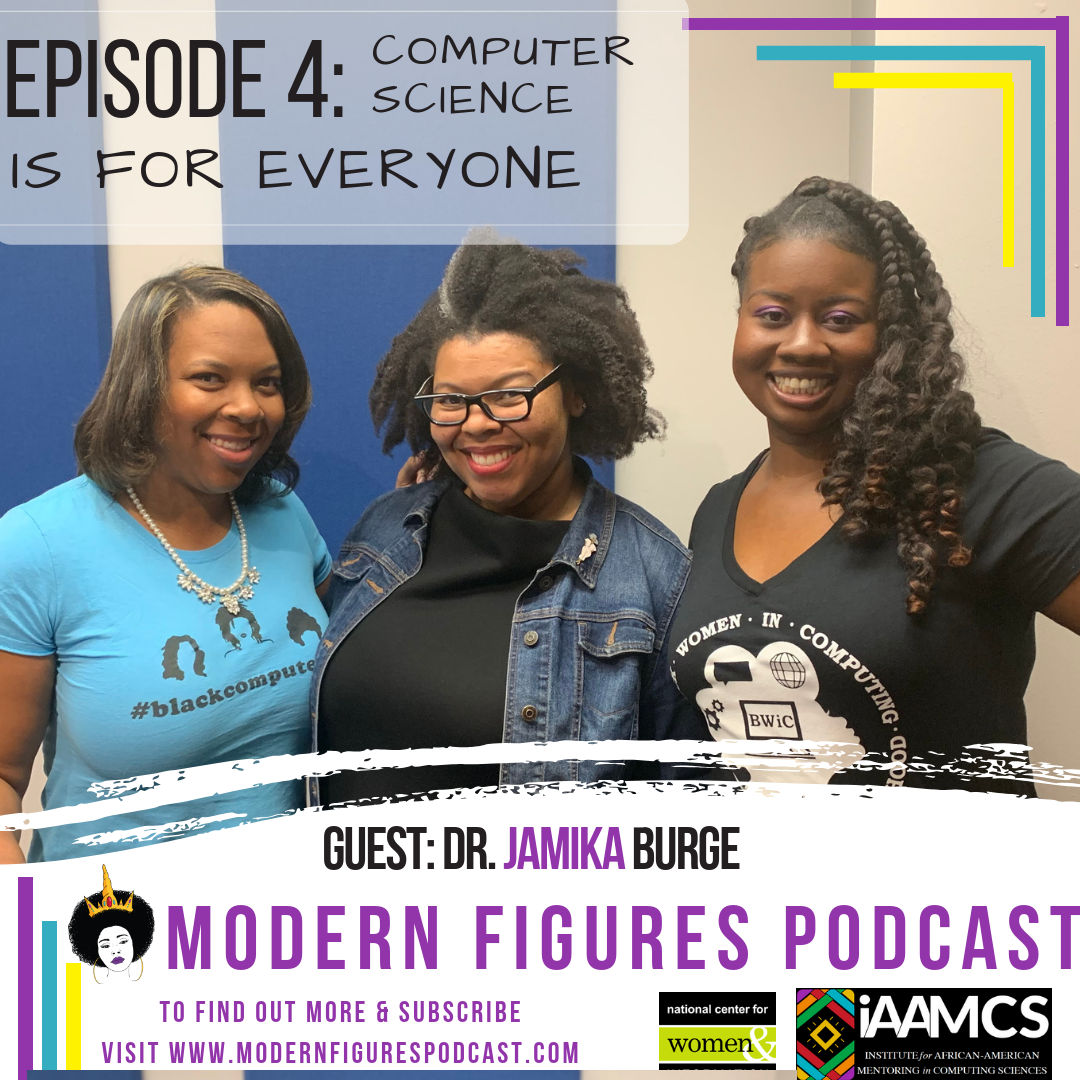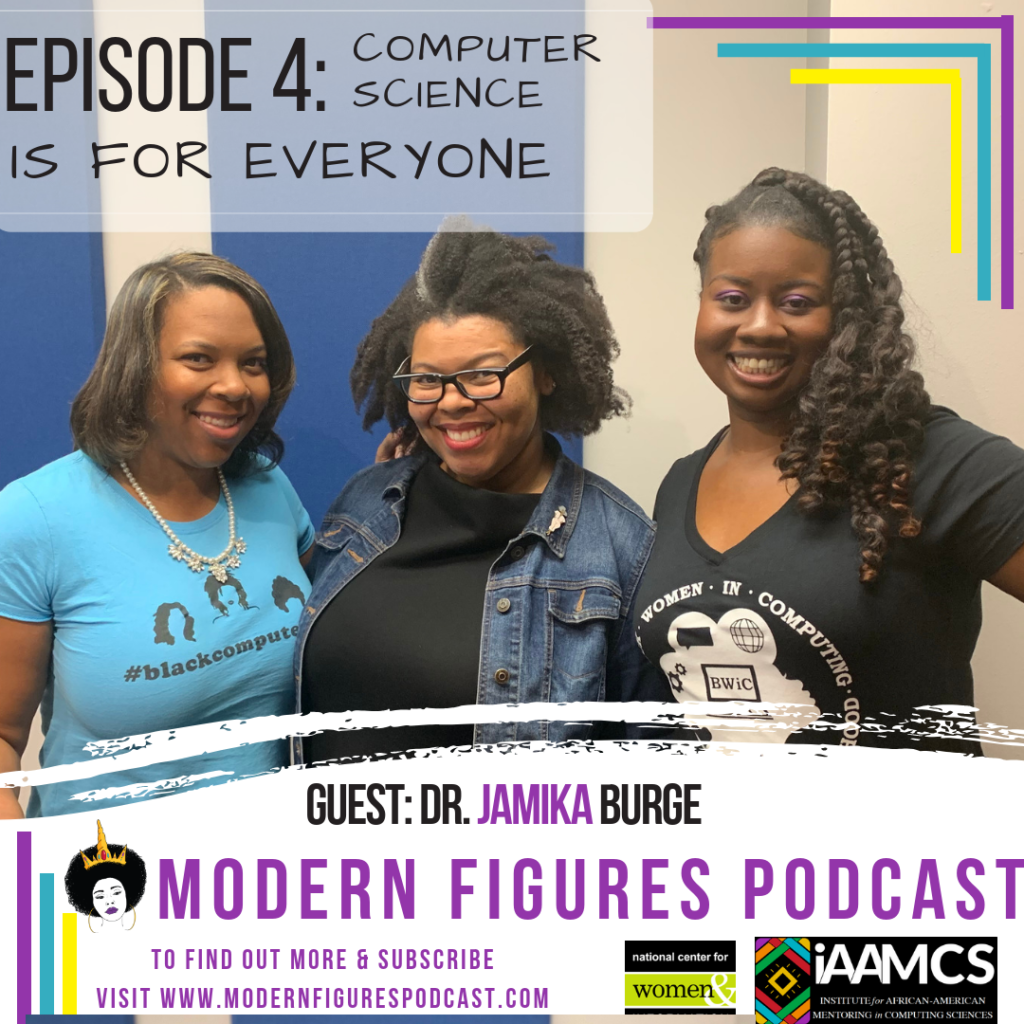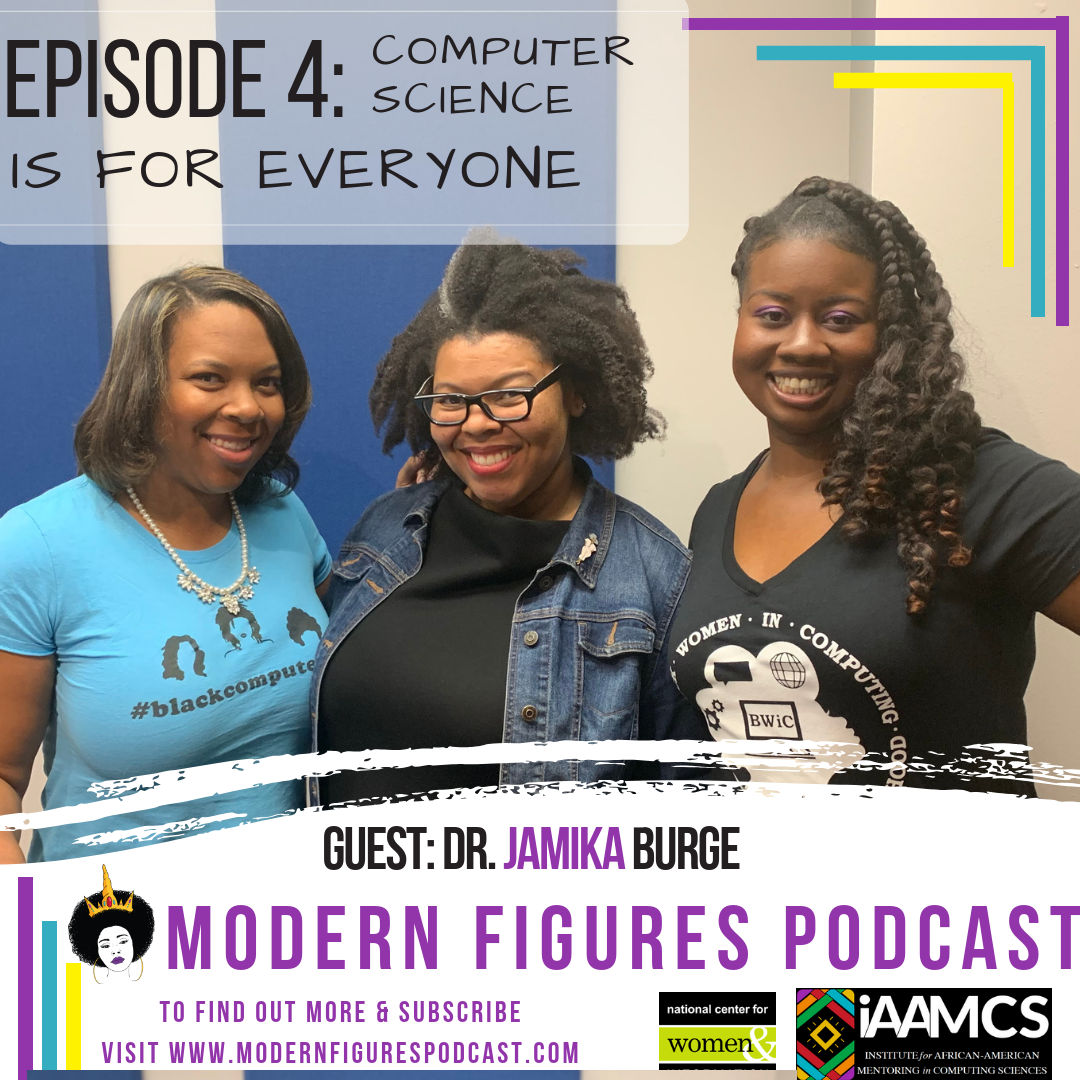 Episode 4 – Computer Science is for Everyone
Hosts: Dr. Kyla McMullen and Dr. Jeremy Waisome
Guest: Dr. Jamika Burge
Description: : Roots. Rome. Religion. And Black Girl Magic. Listen in as Dr. Jamika Burge describes what mentorship means to her. She's a self-described "big city girl with a country heart" who used the knowledge she gained from attending HBCUs to leverage tech as a vehicle for her success.
Dr. Jamika D. Burge is a Senior Manager at Capital One, where she oversees research curriculum development and internal/external outreach. At Capital One, she ideates and creates innovative user research curricula that empower designers, developers, and engineers to apply design thinking and human-centered design principles into their daily work, and beyond. She also engages with internal and external organizations in computing and design outreach activities. Prior to joining Capital One, Jamika served non-profit and government organizations, including as a consultant to the Defense Advanced Research Projects Agency (DARPA) in the Information Innovation Office (I2O). She provided technical and management consult for innovative DARPA programs which were funded at over $70 million. Her research interests lie in human-computer interaction (HCI), specifically in the design of technologies that support a range of communication and interaction needs. She is active in computer science education and STEM preparedness efforts, providing expertise for a host of funded programs funded by the National Science Foundation (NSF) and the Computing Research Association (CRA), particularly those seeking to broaden participation in computer science.  She also provides insight and research into the layers of intersectionality that affect black women and girls in computer science. Jamika holds a Ph.D. in computer science, with a focus on human-computer interaction (HCI) from Virginia Polytechnic Institute and State University, where she was an IBM Research Fellow.  
Dr. Burge is also Founder and Principal of Design & Technology Concepts (DTC), LLC, where she focuses on computer science design and education research.  To date, DTC has consulted for Google, the National Center for Women in Information Technology (NCWIT), and the American Association of College & Universities (AAC&U), among other organizations.  Her career has also included positions across academic (Spelman College and Howard University), non-profit (Smarter Balanced at UCLA), and industry (IBM Research) sectors.
To attend BlackComputeHer 2019, visit this link: https://blackcomputeher.org/blackcomputeher-2019/