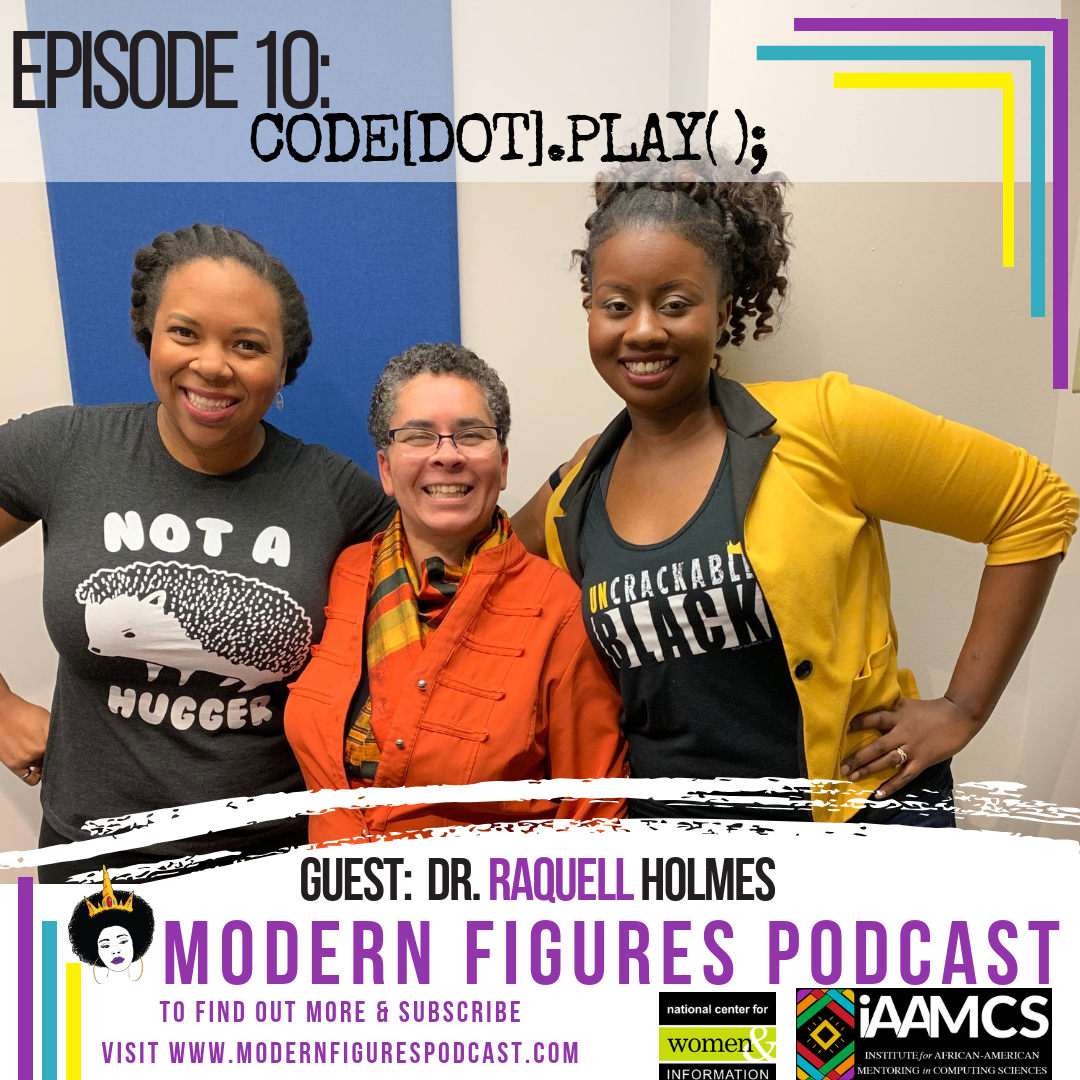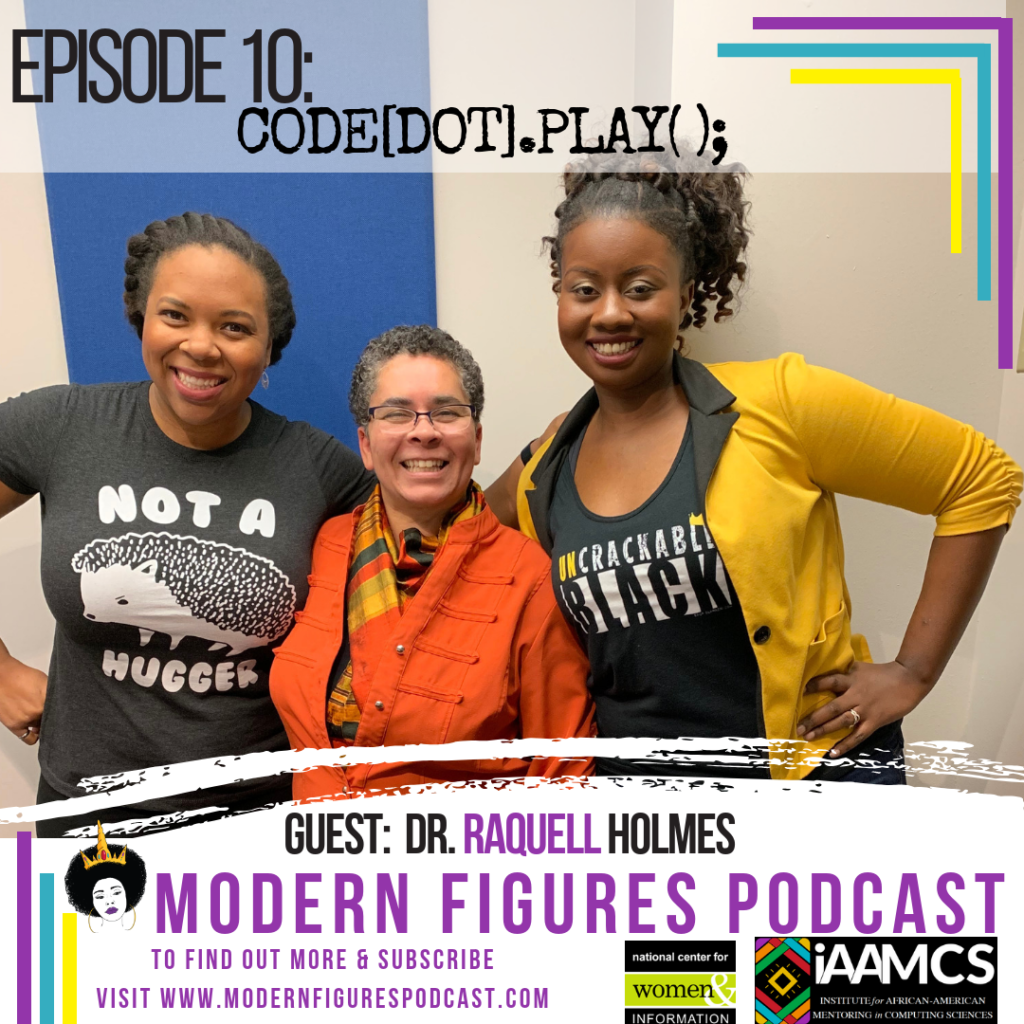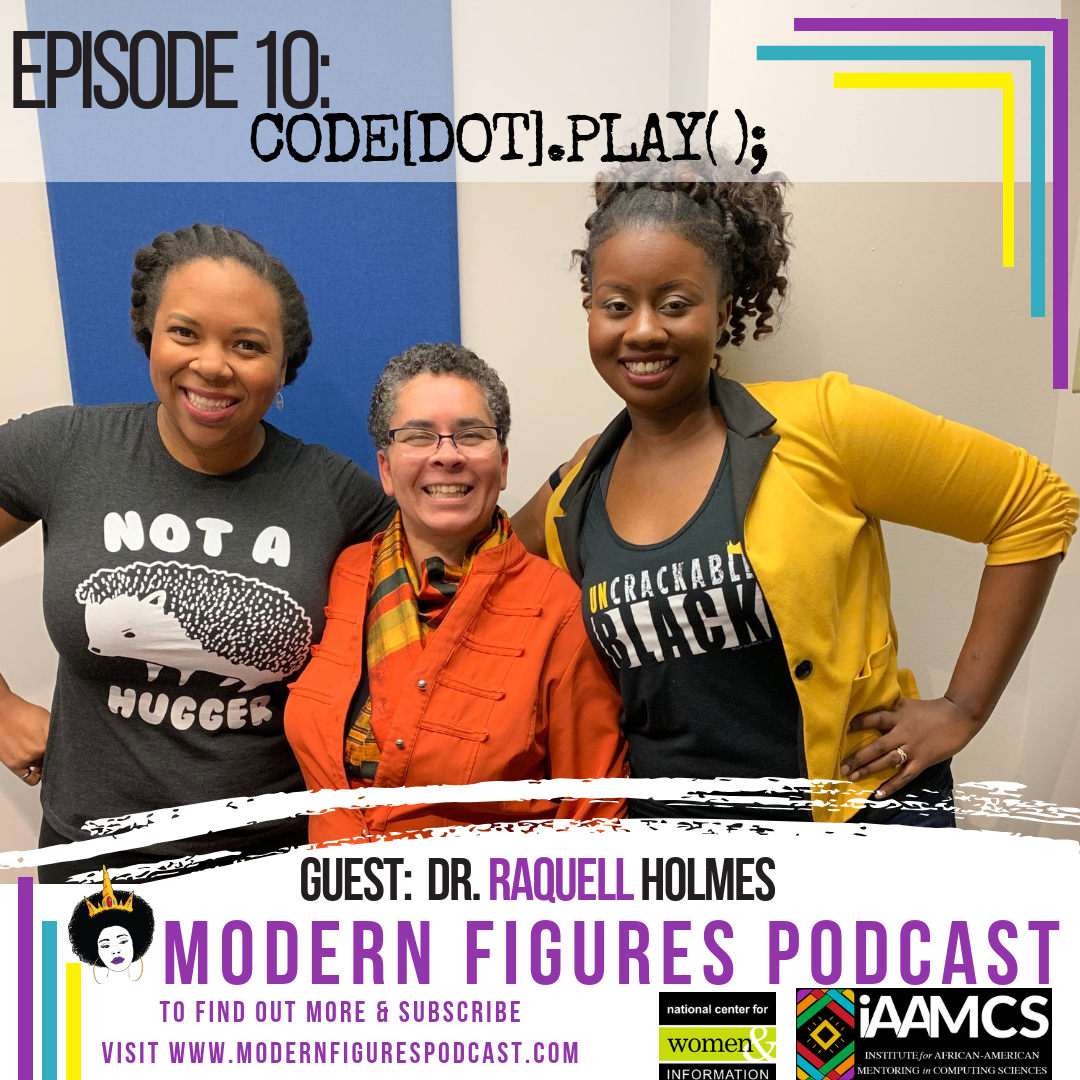 Episode 10 – Code[Dot].play();
Hosts: Dr. Kyla McMullen and Dr. Jeremy Waisome
Guest: Dr. Raquell Holmes (@raquellholmes)  of improvScience and cestemer 
Description:  From biology to biomedical research, and ultimately high performance computing, Dr. Raquell Holmes has had a very "circuitous" journey.
In college, she had professors who weren't able to help foster her interest in mathematics.  But one professor gave her the support she needed, by giving her a window into the life of research. It wasn't until she was working on her graduate school research that she became interested in the world of computing. Today, her work of bringing computing to teachers, schools, and other scientists is done through her nonprofit organization, ImprovScience, where she invites people to play at work through improvisation.
Tune in as Dr. Holmes explains many aspects of her identity which were formed in her youth that influences who she is today. Our favorite quote from this episode podcast is related to the importance of finding community. She stated "I get to be Black the way I'm Black," and we feel that!
Bio: Dr. Raquell Holmes, founder of improvscience, provides leadership development to scientific and technical organizations invested in the development of an engaged, diverse and collaborative workforce. Dr. Holmes designs programs that integrate performance and emotional intelligence to advance communication, inclusion, and discovery across scientific disciplines and cultures.
Dr. Holmes has unique abilities in fostering communication within scientifically diverse communities. Her expertise and services are invaluable to team building. Dr. Holmes founded improvscience where she uses performance to build community and expand relational and co-creative capacities. She also fosters a positive and creative social environment among professionals.
Dr. Holmes is working to change the relationship of science to the world, locally and globally. She is particularly interested in changing the relationship of science and scientists to poor communities and communities of color. Dr. Holmes has the ability to bring people together to create an environment for growth and development. She leads seminars and workshops, develops conferences, designs on-site professional development sessions, and coaches. She uses multiple platforms and locations including: improvscience, Life Performance Coaching, East Side Institute, All Stars UX, and Arizona State University.
Dr. Holmes works with individuals and companies who invest in professional growth as a critical component for engagement, leadership and building environments for excellence.
Accomplishments: 
Dr. Holmes is a computational cell biologist who got her Ph.D. from Tufts Biomedical School in Boston. She stayed in the Boston area for her postdoctoral training at the Dana Farber Cancer Institute and Harvard Medical School. Dr. Holmes then joined Boston University where she became a Research Assistant Professor. She authored the book Cell Biologist's Guide to Modeling and Bioinformatics. She is an East Side Institute Associate in New York and adjunct professor at Arizona State University. 
Dr. Holmes is the founder and director of improvscience, a consulting company that has worked with over 3000 scientists across the country at Harvard Medical School, University of California Berkeley, UC San Francisco, Department of Energy, Boston University, University of Connecticut Health Center, National Institutes of Health, American Chemical Society and the American Meteorological Society.