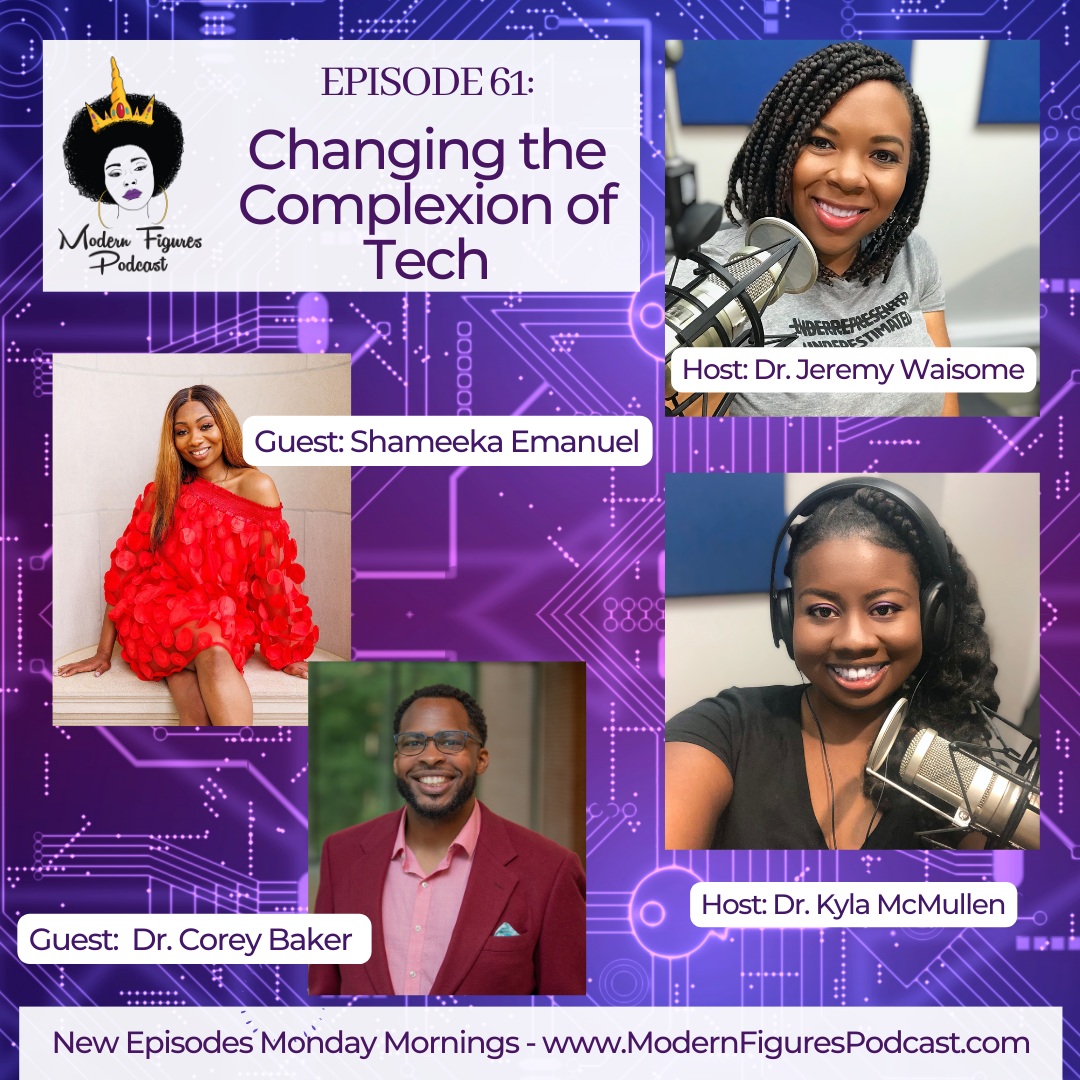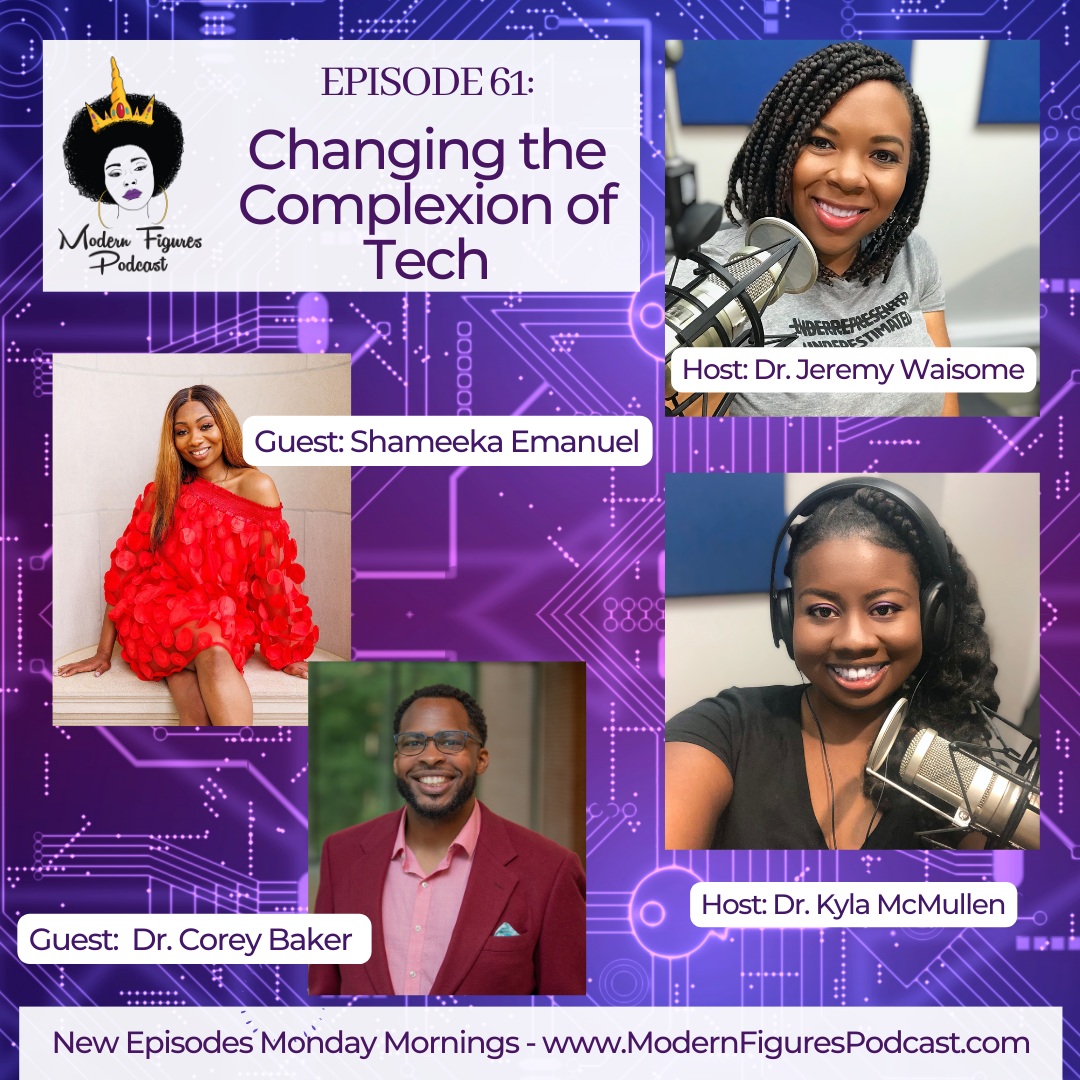 Episode 61 – Changing the Complexion of Tech
Hosts: Dr. Jeremy Waisome & Dr. Kyla McMullen
Guests: Shameeka Emanuel and Dr. Corey Baker
Twitter: 
Interested in Racial Literacy Training? – https://www.yolandasealeyruiz.com/
Culturally Responsive Teaching & The Brain – Zaretta Hammond – https://crtandthebrain.com/about/
Episode Description:
We welcome another special guest Shameeka Emanuel (and bonus guest Dr. Corey Baker) for a fun conversation among friends and colleagues. Shameeka used her personal mission statement to guide her career trajectory. The result? Numerous positions focused on holding space and pushing boundaries.
Shameeka's Bio–
Shameeka Emanuel is currently a Diversity STEM Strategist at Google tasked with reconsidering the relationship between industry and education to expand capacity in computing education. She is focused primarily on Google's Code Next program. Prior to joining Google, Shameeka was a Senior Product Manager for the Amazon Future Engineer team launching products aimed to increase exposure to Computer Science education in the K-12 space while promoting Diversity and Inclusion in tech. Prior to joining Amazon, Shameeka worked at Intel Corporation where she held a variety of positions. During that time, she worked to validate four processors in the Xeon Server Family in various capacities (pre-silicon and post-silicon). Her last role at Intel was Diversity Scholar Program Manager. She also served as Co-Chair for the Birds of a Feather committee for the 2019, 2021 & 2022 ACM Richard Tapia Celebration of Diversity in Computing Conferences. She is currently a board member for Piper which is an EdTech company that aims to create cutting-edge maker experiences for students around the globe.
Corey's Bio– Dr. Corey E. Baker is an Assistant Professor in the Department of Computer Science in the College of Engineering at the University of Kentucky (UK). He directs the Network Reconnaissance (NetRecon) Lab where his research interests are in the area of Cyber Physical Systems with emphasis in: opportunistic wireless communication for the IoT, smart cities, smart homes, and mobile health environments. Professor Baker received a B.S. degree in Computer Engineering from San Jose State University (SJSU), a M.S. in Electrical and Computer Engineering from California State University, Los Angeles (CSULA), and M.S. and Ph.D. degrees in Electrical and Computer Engineering from the University of Florida (UF). After completion of his graduate studies, Baker was a University of California Presidents Postdoctoral Fellow in the Electrical and Computer Engineering department at the University of California San Diego. In 2019, Dr. Baker received the UK Inclusive Excellence Award for his work in creating a graduate campus visit program and diversifying Computer Science and the College of Engineering at the doctoral level. Professor Baker has also served as the Travel Grants Chair for ACM HotMobile 2020 and on the TPC's of numerous IEEE conferences.